Meet Dr. Lazarus, Your Optometrist in Manhattan Beach, CA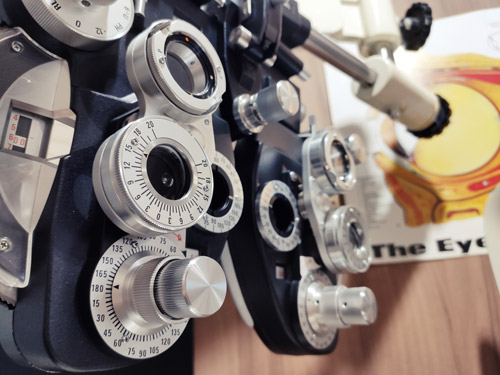 Manhattan Eye Optometry is operated by founder, Gary M. Lazarus, O.D., Ph.D., F.A.A.O., a leading optometrist in Manhattan Beach, CA. Dr. Lazarus specializes in contact lenses, neuro-ophthalmic disease, ophthalmic medicine (including glaucoma), computer vision stress syndrome and aviation vision. He and his staff treat every patient with respect, to ensure you receive the individualized consultation, prescription and treatment your eyes deserve.
Dr. Lazarus is a recognized optometrist in the greater Los Angeles area, specifically Manhattan Beach, CA and its surrounding areas in the South Bay. He is a pre-optometry advisor to UCLA, as well as a lecturer, author, and editor on Neuro-Ophthalmic Disease and Electrophysiology of Vision. He is also a fellow of the American Academy of Optometry and a senior member of the Attending Staff of Cedars-Sinai Medical Center in Los Angeles.
Our Practice Puts Patient Care First
Visiting the eye doctor shouldn't give you anxiety. You should feel calm and confident that no matter your vision needs, you'll be met with the care and compassion you deserve. At Manhattan Eye Optometry, your comfort and the health of your vision are our top priorities. We provide the environment you need to feel comfortable, while delivering superior vision care and treatment to our patients in Manhattan Beach, CA.
Our family-owned and operated practice combines state-of-the-art ophthalmic technology with concierge eye care, and has been at the same location with the original owner since 1975. We provide comprehensive eye examinations for glasses and contact lenses to all patients over the age of 4. In addition, we provide dilated eye health evaluations for conditions such as cataracts, macular degeneration, glaucoma and diabetic retinopathy. We also offer contact lenses, prescription lenses and designer eyewear.
World-Class Vision Care and Treatment
When you visit Manhattan Eye Optometry, you're getting so much more than just a checkup from an eye doctor in Manhattan Beach, CA—you're getting world-class vision care and treatment.
Trust us to provide treatment and management for a wide range of ocular conditions, including infection, inflammation, allergy and dry eye/ocular surface disease (keratitis sicca). Dr. Lazarus also does consultations for refractive surgery (Lasik and laser vision), glaucoma, vitreoretinal disease, neuro-ophthalmic disorders and oculoplastics, as well as strabismus and amblyopia.
Dr. Lazarus is a strong believer in continuing education and spends much of his free time attending ophthalmology and optometry seminars, as well as at workshops advancing his clinical skills. As a result, our practice is on the cutting edge of many areas of focus, including:
Cataracts
Cornea and external disease
Diabetic retinopathy
Glaucoma
Hypertensive retinopathy
Macular degeneration
Neuro-ophthalmic disorders
Strabismus and oculo-facial dermatology
Vitreoretinal disease
He also keeps current with all aspects of contact lenses and refractive surgery (Lasik and laser). Our office also serves as a primary eye care hub for ophthalmic disease patient referrals to subspecialties for ophthalmology, neurology, internal medicine and dermatology. You won't find a more comprehensive optometrist in Manhattan Beach, CA!
Manhattan Eye Optometry welcomes patients from Manhattan Beach and surrounding areas such as:
Hermosa Beach
Torrance
El Segundo
Schedule an appointment with Dr Gary M Lazarus a Leading Eye Doctor in Manhattan Beach, CA
Put your eye health and eye care needs first! Contact the office of Gary M. Lazarus at Manhattan Eye Optometry to schedule an appointment today at 310-372-2197. No matter your vision needs, we strive to be the eye doctor you trust for ocular health.
Request an appointment with Gary M. Lazarus, O.D., Ph.D., F.A.A.O., – Manhattan Eye Optometry to make your visual welfare a top priority.