Eye Exams in Manhattan Beach, CA
Proper vision care starts at Manhattan Eye Optometry. We provide comprehensive eye exams in Manhattan Beach, CA to patients of all ages, including children over the age of 4. With a full profile of your eye health and any conditions you may be living with, we're able to provide the individualized vision care you need to preserve your sight and ocular health.
Our practice offers eye examinations and vision treatment for a variety of vision disorders. We aim to help you understand your disorder and will explain it to you in detail. Following diagnosis, we can provide you with contacts and eyeglasses to correct vision impairments whenever possible. Our mission is to ensure your long-term ocular health by providing routine eye exams and individualized vision care throughout your life.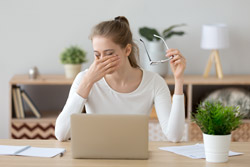 Computer Vision Stress Disorder
These days, looking at a computer screen for hours a day is part of life. Screens are part of work, relaxation and entertainment. The problem is, overexposure to screens can cause very real strain on your vision and your ocular health.
Whether you're having difficulty focusing on a computer screen, suffering from headaches, poor posture, or experiencing eye fatigue and blurriness when reading; it could be the result of a condition called computer vision stress disorder. With a routine eye exam in Manhattan Beach, CA, we can diagnose this condition and recommend ways to help alleviate your symptoms:
Single vision glasses or computer bifocal lenses to improve your overall condition
Computer fatigue glasses that block the harmful blue light spectrum (worn over contacts)
Counseling on effective computer ergonomics, lighting, posture and computer placement
The good news about computer vision stress disorder is that it can be controlled and reversed with the proper precautions. Let us introduce you to the right vision care regimen to ensure your eyes aren't being pushed to their limits by everyday screen time.
Ophthalmic Medicine
Do your eyes burn or feel strained? Do you feel pressure behind the eyes? Do you feel like you should get an eye exam, to discern an underlying problem? You're not alone—we see patients at our Manhattan Beach, CA clinic all the time who complain of ocular pain.
Our practice can help relieve eye pain and discomfort with ophthalmic medicine. Whether you're dealing with infection, inflammation, dryness or eye allergies, we offer a diagnosis, then provide treatment specific to your problem through the use of supplements and medications. Through customized vision care we'll make sure your eyes get the relief they need.
Aviation Vision
Gary M. Lazarus, O.D., Ph.D., F.A.A.O., is certified by the American Optometric Association to perform the Aviation Vision Test required by the FAA as a prerequisite for a pilot's license. Whether you're an amateur pilot or you fly commercially, we'll make sure your vision is suitable to get you back into the cockpit. We can help you meet FAA criteria for vision standards and perform the routine eye exams required to maintain licensure.
Additional Vision Services
As a complete provider of vision care to Manhattan Beach, CA patients, we're here to make sure your eyes get the attention they deserve. We provide the following eye exams and vision checks:
Driver's License (DMV) Vision Test
Lasik and Laser Refractive Eye Surgery Consultation and Surgical Evaluation
Strabismus and Amblyopia Binocular Vision Evaluation
We're thorough and careful when administering any exam, and we educate every one of our patients on their vision and any notable steps they should be taking to protect it.
For more information about the eye exams and personalized vision care offered at Manhattan Eye Optometry, contact us today by calling 310-372-2197. We'll gladly accommodate you for any routine eye exam or for a specialty examination. We welcome patients from throughout Manhattan Beach, CA and the Greater South Bay area.